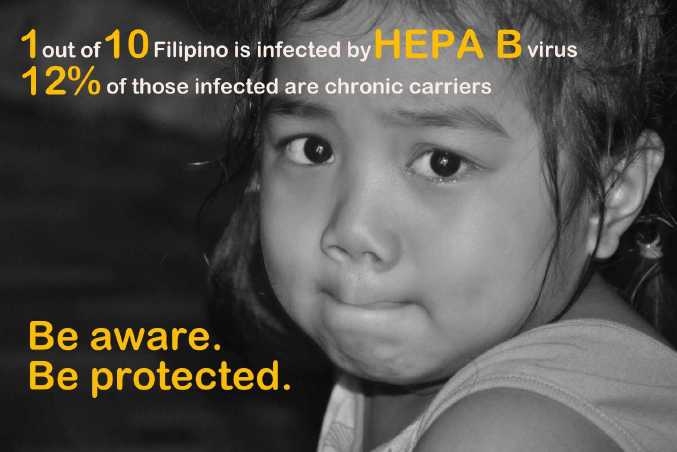 Last Thursday, October 2, the World Health Organization (WHO), together with the Hepatological Society of the Philippines, launched an awareness campaign for hepatitis B, a contagious viral infection that can become chronic and cancerous. In the Asia Pacific region, it is estimated that every 30 seconds, a person dies from viral hepatitis. In the Philippines, one out of six Filipinos or 16.7%, are infected with HBV.
Chris Muñoz of the Yellow Warriors Society of the Philippines, a national organization of HBV patients and advocates, explained that the campaign is not merely about educating the general public about Hepatitis B, but to eliminate any social stigma that comes with this disease. The launch entitled, "B-Aware Campaign," featured the attendance of 3 other healthcare leaders:
Dr. Nick Walsh – WHO's Western Pacific Region Office
Maricel de Quiroz-Castro – technical officer of WHO Philippines
Dr. Eternity Labio – President of the Hepatological Society
One of the campaign's gauges for effective information dissemination is for it to trend on various multimedia platforms such as Facebook, television, print, radio, and other venues for social media. It also seeks to partner with other campaigns and health programs in the country such as with the Department of Health's (DOH) maternal health program – an especially important channel for education on hepatitis B as most chronic carriers of the virus become infected at birth. In fact, 90% of all newborn babies are at risk for HBV, hence the mandatory administration of a vaccine at birth.
Despite the mandatory and complementary HBV vaccination, Quiroz-Castro still believes the country is still behind when it comes to protecting individuals against this disease because of delays during home deliveries, difficulty obtaining government funding, and lack of support from the private sector. She added that once the WHO forms a strategy involving neighboring Asia Pacific countries, the Philippines will be appointed a leading country in the regional fight against Hepatitis B.